Alzheimers 2018 Meeting &amp Hospitality
Address
Rafaelhoteles Forum Alcala Calle de Bulgaria, 2, 28802 Alcala de Henares Madrid, Spain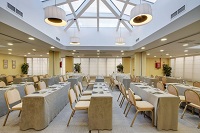 The City
Madrid, the capital city of Spain is the largest municipality in both the community of Madrid and Spain. The city is home to almost 3.166 million inhabitants with metropolitan area of approx. 6.5 million. It is third largest city after London and Berlin in European Union. After London and Paris, it is the 3rd largest metropolitan area in European Union.
There are about 17 Universities in and around Spain which are working in the field of Neurological disorder. Around 1300 neurologist, psychiatrist and neurosurgeons are engaged in studies on Neurological disorder in Spain. Along with professional services, media companies are concentrated in Spain and the media distribution industry is Spain's second most competitive sector.
National Alliance provided the fund of $650 million to fuel the research on mental illness. NARSAD Young Investigator Grant provides $30,000 per year on research in Neural and behavior disorders such as schizophrenia, mood disorders, anxiety disorders, or child and adolescent mental illnesses. Brain tumor research receives less than 1% (0.7%) of national cancer research spending in the UK.
Directions
Route Map