Alzheimers 2022 Meeting &amp Hospitality
Address

TENTATIVE VENUE:
Radisson Hotel & Conference Centre London Heathrow Middlesex, Middlesex, Bath Road (Building A, Sipson Rd, West Drayton UB7 0DU, London, United Kingdom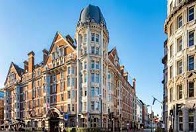 The City
London is a city that is constantly evolving. That means that no matter how many times you visit London, you'll virtually always find something fresh to do. In London, some incredibly amazing and inventive new attractions have opened in the last few years; here are a few to consider for your journey to London to attend our Meeting.
London is enchanting, which is why it is one of the most visited cities on the planet. London has it all, from history and culture to excellent dining and exhilarating moments.
London's lively culture is a melting pot of ethnicities, nationalities, and languages, which is what draws visitors from all over the world to the city.
There are some Newest Place to visit in London,
View from the Shard: To see the overall Beauty of London
Slide at The Orbit: Ride the world's longest tunnel slide
Sky Garden: London's highest public garden
Jack the Ripper Museum: Mysterious Museum
Museum of Brands: The Collecting all branded products from Victorian to Now-a-Days
Night Tube: The Place to enjoy at night.
Directions
Route Map