Alzheimers 2019 Meeting &amp Hospitality
Address
Mercure Hotel Wien Westbahnhof Felberstraβe 4, 1150 Wien, Austria.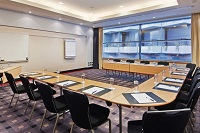 The City
Vienna is the federal capital and largest city of Austria, and one of the nine states of Austria. Vienna is Austria's primate city, with a population of about 1.9 million (2.6 million within the metropolitan area, nearly one third of Austria's population), and its cultural, economic, and political centre. Vienna is host to many major international organizations, including the United Nations and OPEC. The city is in the eastern part of Austria and is close to the borders of the Czech Republic, Slovakia, and Hungary. These regions work together in a European Centrope border region. Along with nearby Bratislava, Vienna forms a metropolitan region with 3 million inhabitants. In 2001, the city centre was designated a UNESCO World Heritage Site. In July 2017 it was moved to the list of World Heritage in Danger.
Apart from being regarded as the City of Music because of its musical legacy, Vienna is also said to be "The City of Dreams" because it was home to the world's first psychoanalyst – Sigmund Freud. It is well known for having played an essential role as a leading European music centre, from the great age of Viennese Classicism through the early part of the 20th century. The historic centre of Vienna is rich in architectural ensembles, including Baroque castles and gardens, and the late-19th-century Ringstraße lined with grand buildings, monuments and parks.
Vienna is known for its high quality of life. In a 2005 study of 127 world cities, the Economist Intelligence Unit ranked the city first (in a tie with Vancouver and San Francisco) for the world's most liveable cities. Monocle's 2015 "Quality of Life Survey" ranked Vienna second on a list of the top 25 cities in the world "to make a base within."
Directions
Vienna International Airport
Wien-Flughafen, 1300 Schwechat, Austria
Get on
A4
from
Parkstraße
Continue on
A4
to
Wien
. Take exit
Gürtel/Landstraße
from
A23
Mercure Hotel Wien Westbahnhof
Felberstraße 4, 1150 Wien, Austria
v
Route Map